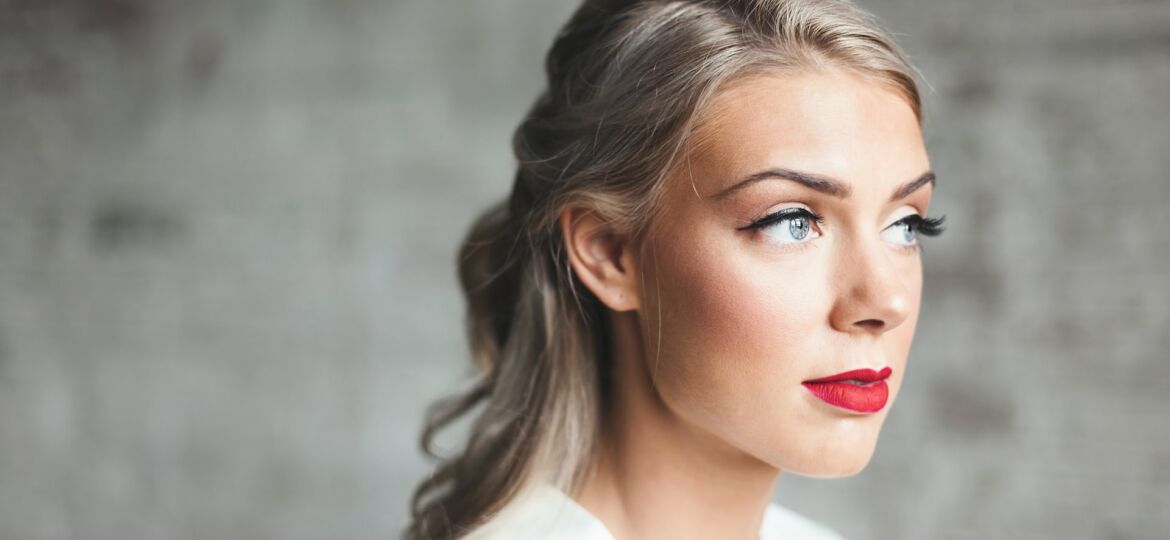 Classic bridal makeup is an iconic look for brides. With a simple cat eye makeup, rosy blush and natural or red lipstick, it works for anyone and looks good on everyone. But while classic bridal makeup may seem like the obvious choice, there are more types of bridal makeup looks out there.
If you're looking for something a bit more modern, versatile, natural or daring, here are some of the most popular types of bridal makeup looks you can try on your special day!
Types of Bridal Makeup

Natural Wedding Makeup
Natural makeup is a good choice for a timeless and effortless bridal look for brides who don't wear makeup often. With help from professional makeup artists, achieving the perfect balance between subtlety and drama is achievable! The best natural bridal makeup highlights your natural features and enhances your natural beauty without changing your look.

Airbrush Makeup
Airbrush makeup is becoming increasingly popular among brides nowadays! The makeup is applied using an airbrush instead of traditional makeup tools. When done correctly, the result is a soft, smooth, flawless look that lasts all day (and night). Its natural finish and long-lasting wear time can help ensure that you look stunning on your wedding day without having to worry about touch-ups or caking over time. It also looks great in photos because there are no harsh lines and shadows like traditional makeup sometimes creates.
So if you're looking for flawless coverage without compromising comfort or longevity, then airbrush makeup might be perfect!

Matte Wedding Makeup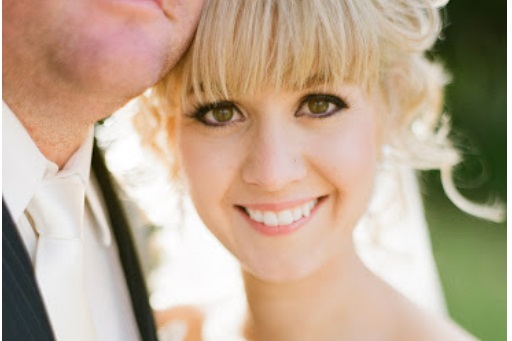 Matte makeup refers to any makeup that uses products with no shimmer or shine. This means that instead of having an illuminating finish, matte products create a smooth and flat surface on the skin — making it ideal for those who prefer an understated yet polished style on their wedding day. This means no need to worry about looking too shiny in your wedding pictures!
The main benefit of matte makeup is that it provides excellent coverage and lasts longer than other types of bridal makeup due to its ability to absorb oil from the skin.




High Definition Bridal Makeup
High-definition makeup is designed to provide an even, flawless finish while minimising the appearance of wrinkles and blemishes. Professional photographers and television personalities often use this more than other types of bridal makeup because it allows for the highest quality look without sacrificing natural beauty. It's also great for weddings because it will last all day, even after hours of dancing and celebrating!
The most significant benefit of HD makeup is it looks almost entirely natural while evening out your skin tone. Most formulas are also waterproof and stable, lasting 12-24 hours without needing many touch-ups. To maximise the benefits of HD makeup, your makeup shade must be a good colour match for your skin tone.
With its superior coverage, long wearability, and natural-looking results on camera, HD makeup offers brides all they need to look gorgeous from start to finish! If you're interested in high-definition makeup for your big day, consider reaching out to an experienced makeup artist who can help you achieve the perfect wedding look!

Bridal Makeup Looks

Dewy Makeup Look
One of the hottest trends in makeup right now is the dewy look. If you're looking for an effortlessly beautiful and romantic look, then this style of makeup could be perfect for you! The goal is to create an overall natural glow without looking too shiny or greasy but instead give off a healthy sheen that appears both natural and subtle. It looks natural and is perfect for any bride who wants to look beautiful on her big day.
Wedding Smokey Eye Makeup
A smokey eye is a makeup style in which dark colours, such as greys or blacks, are blended around the eye area to create a smudged or smokey effect. It's often worn by people who want to make their eyes look bigger and more dramatic, but it can also create a more subtle and natural effect. The result is an eye makeup look that is both glamorous and chic.
Nude lips with classic smokey eyes can be the perfect way to make your eyes stand out and give them extra glamour.
A smokey eye, symmetrical eyebrows, a bold lip, and powerful long lashes also help create a sultry wedding day look.

Glam Wedding Makeup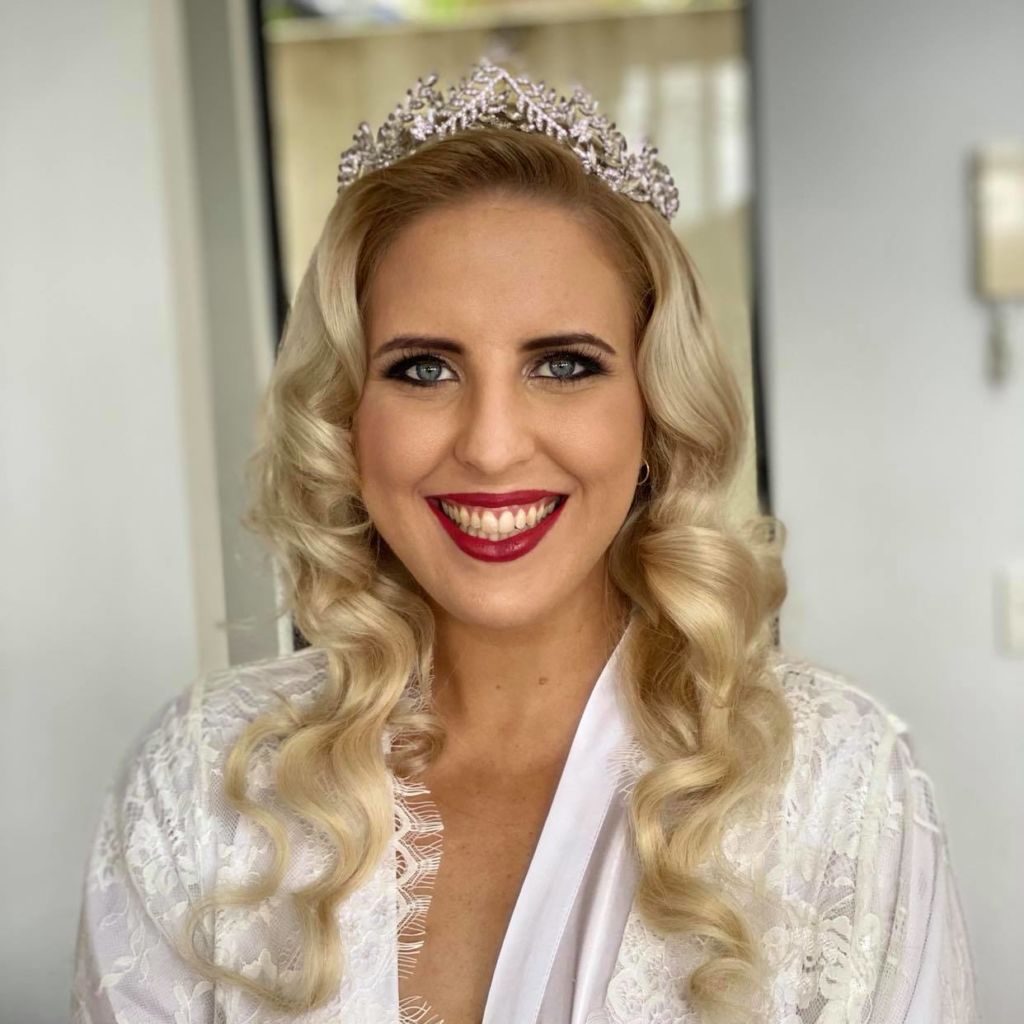 Glam wedding makeup is exactly what it sounds like – a more glamorous version of your everyday makeup look. Glam wedding makeup stands out because it emphasizes dramatic features like dark eyeshadow and bold lips. It goes beyond the classic bridal look by adding more intense colours, shimmering eyeshadow, winged eyeliner, red lip colour, and sometimes even false eyelashes. But it's also about ensuring you don't look too overdone or unnatural; the look should be polished and flawless. This kind of makeup is also designed to last all night long—so you won't have to worry about having to reapply throughout the evening!
Glam wedding makeup is perfect for brides who want to make a statement on their big day! Not only does it add drama and dimension to your overall look, it also photographs beautifully and lasts all night. To ensure you get the best results possible, we recommend booking an experienced professional makeup artist specialising in this makeup application. With their help, you can step out on your special day feeling confident and beautiful with gorgeous, glam wedding makeup!


Why You Should Hire a Wedding Makeup Artist
Your wedding day is one of the most important days of your life, so you want to be sure that you look and feel your best. But with so many details to plan, it can take time to do your makeup. That's why working with a professional wedding makeup artist is very convenient! Not only will they help save time and stress by coming right to wherever you are getting ready in the morning, but they also have all the necessary skills and products to make sure to achieve different types of bridal makeup looks! Plus, with packages tailored specifically for brides-to-be plus potential discounts available—it's a great way to stay within budget too!
Read more about why brides choose us.

Makeup Artist Sunshine Coast
The Makeup & Hair 4 Brides marketplace allows you to search for available artists/stylists for your wedding date, check their profile and gallery, and search for specific keywords or services.
Once you've chosen an artist from Makeup 4 Brides, you can discuss your overall wedding theme with your makeup artist and they can design a look that is just right for you! Don't hesitate to ask your makeup artist for a makeup trial so they can assess your skin type and work with any sensitivities you might have to bring out your best features on your special day.
No matter what type of bridal makeup you decide to go for on your wedding day, remember that it should still feel like "you" at the end of the day – after all, it's important that you feel confident and beautiful no matter what style you choose! Try out different types of bridal makeup looks before making your final decision so that you can find the perfect fit for you before walking down the aisle.
Have questions? Contact 4Brides here.