Most brides request a natural bridal makeup look, but is this really what they actually want?
More often than not a natural makeup look is requested. However, as professional makeup artists, we have discovered that this is not always the case. So what is a natural makeup look?
A natural makeup look can mean different things to different people. It may mean a light coverage of foundation and only a small amount of coloured cosmetics to softly show their natural features without covering up their skin and freckles. It may also mean a full foundation coverage with natural attributes emphasised to make them more of a feature. Some people also relate 'natural makeup' to be more the colours that are used rather than the application or depth of colour – i.e. natural tones. Really, makeup that doesn't look overdone, garish or fake can be considered natural. This is the beauty of makeup. We can create what is considered a 'natural' makeup look from a full spectrum of interpretations.
So how do I know how much makeup I need to wear?
Probably the first thing to remember is that your bridal makeup is not going to be the same as your everyday makeup. You are quite possibly going to be wearing the most glamorous dress that you will ever wear and your makeup needs to reflect this as well. Your wedding makeup needs to be strong enough so as not to look washed out in your photos but not too overdone that you feel uncomfortable in person.
This is something that your Makeup 4 Brides professional makeup artist understands. Discuss with your makeup artist how much makeup you are comfortable with wearing as this will be a good starting point. Talk about what looks are important to you including what features you like to bring out. Do you love your eyes and want to make them a feature or do you want the emphasis on soft eyes and a bold lip? There are so many choices.
Consider the look and theme of the wedding day in general, as well as the style of your dress and hair. A casual beach wedding may lean more towards a more gentle or pretty makeup style. Meanwhile, a formal church wedding and formally structured hairstyle may require a more classic makeup look with perhaps a soft eye but strong red lip. There are so many choices but your professional makeup artist will guide you along the way to find a look that is just right for you.
Most requested makeup look
Once we have discussed the various options for 'natural' makeup, we often find that the most requested bridal makeup look is that of a soft smokey eye with or without strong eyeliner, good foundation coverage, a pretty amount of blusher with a touch of highlighter, and a lip colour that works with a bride's wedding colour theme, dress or flower colours. You will find that this is the predominant look in many of our website images. The eyes are a definite feature with the skin looking flawless, and the lips pretty and complimentary to the overall look.
Natural and Glowing Skin
One of the most important elements to your bridal makeup is to have your skin in great condition. Makeup on a great base will always result in a better finish. Consider putting some significant work towards having a regular skin care routine before you get married. Whether you do a full skin care program or simply invest in microdermabrasion, exfoliation, and hydration, this will make a big difference. Your makeup artist can then create a masterpiece on refreshed and glowing skin using the right combination of foundation, blush, and bronzer.
All About the Brows
Brows are the most underrated feature on your face but can often be forgotten. They help to frame the face and set the foundation for eye design. Well shaped and maintained brows can make a huge difference to the overall finish of your makeup. Eyebrows with a strong shape are a popular beauty feature right now. If you have them, you should flaunt them on your big day. For our brides who want to highlight their brows, our makeup artists will usually lightly fill them in to define the shape.

Big Lashes
Some brides opt to have their eyelashes be the center of attention instead. They may request some beautiful lash extensions or some temporary false lashes to give their eyes some extra wow factor. For this look, we could do the rest of the makeup in soft or natural colors. You may wish to complement this look with a bold or soft lip. The choices are yours.


Winged Liner
Winged liner is a classic style that many brides use on their big day to make up their eyes and give them an elegant look. Paired with a neutral eyeshadow and a bold lip, winged liner is perfect for a classic and beautiful look for any bride.


Matte Skin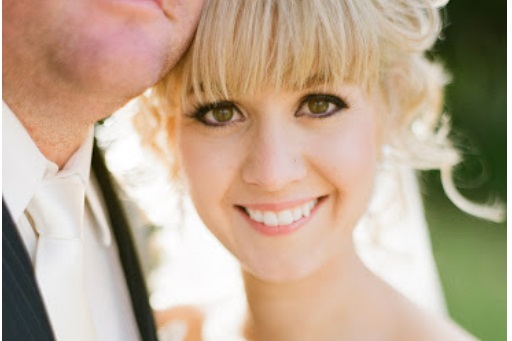 Matte foundation is often used for a bridal makeup as it works tremendously well for photos but also keeps you looking fresh throughout the day. When combined with a setting powder, this helps to absorb sweat and reduce shine and oil so your makeup lasts until the very last dance. Your makeup artists may also add a touch of highlighter to your face where it is acceptable to have a small touch of shine, such as on the cheekbones, eyelid and brow bone. They will be careful not to make you too shiny as this can reflect back in your photos.

Golden Skin
Golden skin may not be every bride's choice on her big day. But it's a fitting makeup look for the bride who is getting married outside or on the beach. If you are celebrating your big day outdoors, our makeup artists can use a combination of foundation, highlighter, and bronzer to give your face a beautiful natural glow. Needless to say, you will be the very definition of a glowing bride.


Millennial Rose Gold
Millennial rose gold is one of the more popular colors amongst the younger generation and is a very pretty color that would be fitting for a wedding during any decade. To achieve this, our makeup artists like to use blush, a lip color, or an eyeshadow palette that are in shades of rose gold to give brides a trendy and young millennial look.

A Makeup Trial Before Your Wedding
Here at Makeup 4 Brides, we recommend a makeup trial with your makeup artist before the wedding. We like to discuss with brides their overall wedding theme and then design a look that is just right for them. Photos are taken at the trial along with notes to ensure the look can be replicated on the day.
Ask your makeup artist from Makeup 4 Brides and they will help you out with a makeup trial, assess your skin type and work with any sensitivities you might have to bring out your best features on your special day.