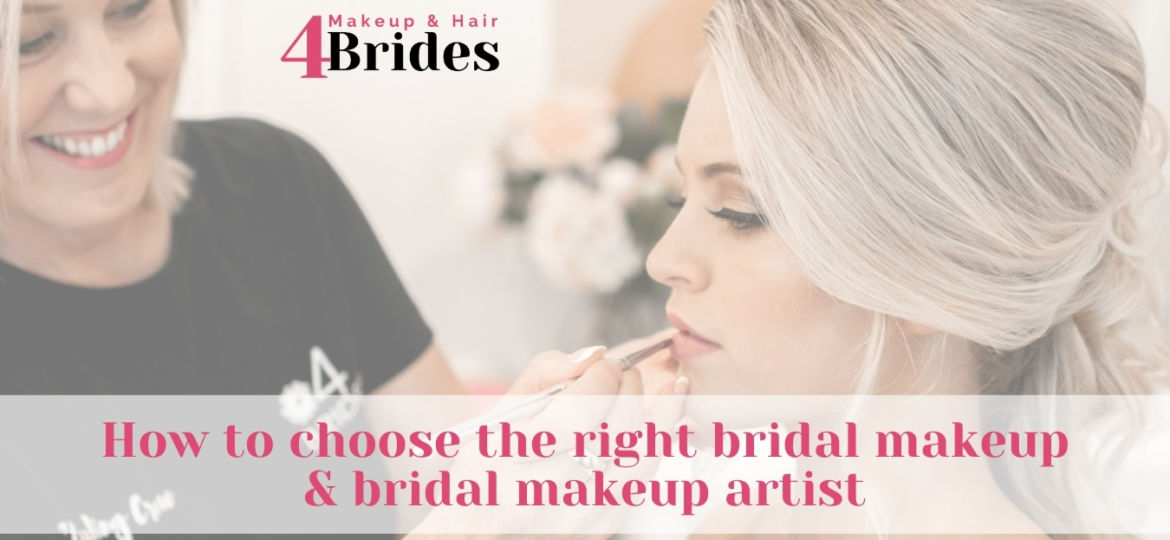 How to Choose the Right Bridal Makeup and Makeup Artist

Every single bride has a different idea of how they want to look on their special day and this extends to their makeup and hair.   With over 20 years in the wedding industry we know this all too well and have had the pleasure of looking after brides from the full spectrum of requested makeup looks.   Some may envisage their look to be that of natural beauty, others perhaps classic elegance and some prefer a full glam look and of course there is every variation in between.   So how do you find not only the right makeup look for you but also the right makeup artist to suit your needs?   Well read on and we will show you how to choose a bridal makeup artist for your special day.

DECIDING ON A MAKEUP LOOK
This is probably one of the most difficult steps but it doesn't have to be if you break it down.   Here are a few points to consider:
First of all, consider your overall wedding theme.   Are you planning a relaxed beach or garden wedding, a classical church wedding or perhaps a glamorous affair?   Usually your dress will reflect the style of wedding you are planning and often brides are wanting their makeup and hair look to complement this.
Secondly, consider how much makeup you are comfortable with wearing.   Do you wear makeup regularly?   Are you excited about glamming it up for your wedding day more so that you would any other day, or does this idea scare you?   Would you prefer to radiate a beautiful natural glow, use enough makeup to bring out your natural features, up the ante and opt for a really glamorous makeup to complement your glamorous dress, or perhaps opt for a more classical, perhaps period-style, makeup?
Do you have a feature on your face that you would prefer to emphasize?   Would you love to play up your eyes and go softer on your lips?   Perhaps bold lips and a softer eye makeup is more you?   Or maybe you would prefer to go the whole 'Hollywood Glam' look and emphasize your eyes as well as wearing a bold lip.
How much on-the-day maintenance are you prepared to make? This might seem like an odd point but once you leave the preparation location on the wedding day, the day flies by so fast and you may have very little touch up time throughout the day.   Of course your makeup artist will take into consideration things like tears and the heat of the day, and will no doubt use smudgeproof mascara, eyeliner, etc., but things like lips and perhaps a refresh of powder, especially on a humid day, may need to be applied at certain times.
As a general rule, the further away from your natural lip colour that you go, the more you will need to ensure your lipstick is touched up.   If choosing to wear a red lipstick, for example, then lipstick wear will be way more obvious than, say, a softer nudey pink which is way more forgiving if there is some wear.   The bolder the lip the more precise the lipstick needs to be.   And yes, there are many different formulations of lipsticks from sheer glosses right through to solid matte lipsticks as well as the tough paint types.   All of these do require touching up at some point throughout the day.   Just something to keep in mind when deciding on a lip colour.
Do you want your particular look to carry through with the bridesmaids as well?   Would you like the entire bridal party to have a similar strength of makeup and lipstick shade or are you happy for each to show their own individuality with their makeup?   This question can often be solved by considering how you would like your photos to look when you are all together.   Would you be happy with one bridesmaid to have a bold lip and the next one a nude lip, or would you prefer them all to have a similar strength and colourings to ensure your overall theme is achieved.
Of course these are just guidelines and anything goes for any type of wedding, these are just some of the considerations brides give when planning their wedding day makeup.   There are no hard and fast rules – bridal makeup can be designed to suit the individual personality of the bride as much as the theme of the wedding.
GATHER INSPIRATION IMAGES, BUT BEWARE!
Most brides, when planning their wedding makeup, scour Instagram, Facebook, perhaps Pinterest and YouTube to find examples of makeup looks that they love.   They pore over all the amazing photos of stunning brides and gorgeous models with the most beautiful, perfect makeup complemented by blemish and line-free skin, invisible pores and perfect facial features.   Of course these looks catch your eye – they are stunning in every way.   But is this reality?   Social media can be a great place to start but it can also be very overwhelming and often just confusing and here is why:
What you see is not real!   Okay, we know we are living in a world now where almost every image (and now even video) on social media has been edited, filtered, photoshopped or touched up to some degree, so you would think that this should not come as much of a suprise to many, but it actually does.   We seem to have evolved to a point where a filtered image is now the norm and an un-retouched or natural image is the exception. This in itself has led to a false sense of reality to some degree and, as a makeup artists, this is usually where I start my consultation when meeting brides for the first time.   Personally, I sit down, before even placing one brush on their face, and discuss their wedding plans, colours, etc., and then check out looks that they have collated.   9/10 looks that I see are highly edited images.
How can you tell?   Look at the image and firstly check the skin – does it look like skin with pores and lines and shadowing, or is it perfect like plastic?   Is the white of the eyes and teeth a crisp white, as compared to the natural colour of our eyes and teeth?   Is the lipline absolutely perfect like it has been drawn onto a flat surface as opposed to a real lip contour with bumps and creases?   Is there an unusual amount of perfect light on the face with no shadowing to emphasise hollows under the eyes, etc?   Are the colours more vibrant than they would be in real life?   These are just a few things to look for but the reason for pointing all this out it to ensure you do not set yourself, and your makeup artist, up for disappointment before you even start.   Understanding that you quite possibly won't look like the girls in the edited photos in real life, although there is a high chance that you will after your photographer has edited your photos, sets the basis for a happy journey with your wedding makeup moving forward.
The key is to finding a great makeup artist who can make you look stunning up close in person but who also understands the requirements of your makeup to ensure you photograph beautifully as well.   Both aspects are as important as each other on the wedding day.   This is where the real skill lies with a professional wedding makeup artist.
Here are a few 'before and after photoshop' images found on the internet (not our work) to demonstrate how common this is.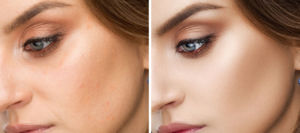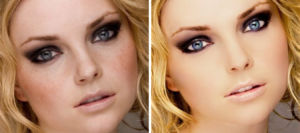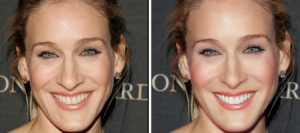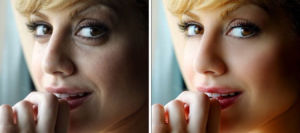 Now having said all that, there is absolutely nothing wrong with liking and preferring the edited images.   Gosh, there's a high chance that that is how you are going to look once your photographer has edited your photos (depending on your photographer and how much post shoot editing they include) but you just need to   be realistic with your expectations.   Yes definitely collect all those gorgeous images as they help your makeup artist get an idea as to what you have in your mind, but please understand what you are actually looking at.   Also be aware that most of us are drawn to these particularly images not only because the makeup is beautiful, but also the bride/model has perfect symmetry on her face: she probably has wide eyes with lots of space for a great eye design; she will have full lips and great cheek bones, and her biometric measurements of her face will also be in proportion.   This is what attracts us to a particular image, it's not just the makeup.
So…how will this look then transfer onto your own face?   Are you comparing apples with apples?   Do you have the same amount of eye space for a similar eye design or will your makeup artist have to modify the look to create a similar look?   Will that lovely long cat eye tick work as well with a hooded eye?   Will that bold red lipstick work as well on thinner lips or should you perhaps opt for a lighter or more ombre look to give the illusion of a fuller lip?
When I sit down with a bride at her makeup trial and we discuss makeup looks that she likes, this sort of thing will usually come up.   I love that my brides bring along images of looks that she likes as it can be difficult at times to get a fix on what sort of look they have in mind.   One person's idea of a natural makeup can be totally different to anothers.   I find that it is better for both the bride and the makeup artist if the discussion is honest and open to begin with and this can include a conversation about how the makeup look shown in the images will transfer onto her own face.   Occasionally I need to point out the different eye shapes and whether I feel a particular look will work or not, or if I will need to make changes to achieve a similar look.   When I zoom in close on an image, and particularly the eyes, I look to see the strength of eyeliner, the placement, whether false lashes are used, the eye shadow colours and design, etc.   I will then usually point these things out to the bride and ask if she is in fact okay with wearing eyeliner on her waterline (inner rim of the eye), or if she has worn false lashes before and whether she would be comfortable with them.   It's not unusual to find out that after breaking down the different aspects of the image that the bride perhaps doesn't want the eyes as dark as the lady in the image or has never worn that amount of makeup ever but may be open to trialing it at her makeup trial.   It's about communication.
SHOULD YOU HAVE A MAKEUP TRIAL BEFORE YOUR WEDDING DAY?
As a makeup artist with 22 years experience, I personally don't need a practice run with doing makeup – the trial is not for me, it's for you, the bride.   But of course this thought process will vary from makeup artist to makeup artist and I know many who prefer (or insist) on doing a trial for the bride before the wedding day.   The trial is a time to get to know your makeup artist, nut out what sort of looks you like and don't like (and of course, the points mentioned above), as well as putting your mind to rest that you are in the right hands for your wedding day.   Every makeup artist has a different style and of course they all vary with experience and skill so trials help to ensure that you have selected the right makeup artist to suit your requirements.   A trial is a great opportunity to perhaps try that bolder look that you may not normally wear, or test out wearing false lashes if you aren't normally used to them.   It is also an opportune time to test out products if you have allergies or sensitive skin, as well as checking the longevity of the makeup.
All brides are different and we know that many brides come from some distance away to get married in destination wedding locations so availability to fit in a trial a set time out from the wedding day may not always be practical.   We usually recommend having trials done a month or two out from the wedding date as the weather should be similar to how it is going to be on the day giving you more of an idea as to how the makeup will last, plus often brides have more of a firm idea as to their colour scheme and look they are after.   Having said that trials really should be able to be done at any time fitting in with the availability of the makeup artist and the bride, if needed.   We have had brides fly in from overseas wanting trials a year ahead as they aren't returning until the week of the wedding, and we have done trials for brides the day before the wedding day too.   Usually though, a month or two out from the wedding day is a good amount of time.   It allows the bride time to do last minute things as discussed with the makeup artist like, perhaps, scheduling a brow wax, perhaps some microdermabrasion, discussing spray tans (if required), and any other skin related tweaks that may be suggested.
Usually at a makeup trial a set amount of time has been booked by your makeup artist.   This will vary between artists.   Generally a makeup trial consists of a consultation at the start, confirming all the wedding day details as well as chatting about wedding colours and the kind of look you are after, plus some extra time may be included to tweak the makeup look after completion. It does not consist of trialing multiple different looks from scratch – that would usually require booking a second trial.    The makeup artist may suggest some looks or show you some images of past looks she/he thinks you might like prior to starting on your makeup.   Often 'before' and 'after' photos are taken by the makeup artist for her to reference back to on the wedding day.
If you are not sure about how strong to go with your eye makeup in particular, it is a good idea to start softer on the eye first and then the makeup artist can add darker colours or 'build up' the eye makeup after to show you a variation of strengths.   Professional makeup products used are often highly pigmented and have tremendous staying power so it can be difficult to 'cut back' a look if the makeup artist goes straight on with a very strong smoky eye look, for example, if you aren't totally sure if that's the look you want.   By starting softer and then adding some darker shadow and perhaps some more eyeliner, the eye look can be built up and changed very quickly without issue.
Similarly with lipstick colours – it can be difficult to go lighter over a darker lipstick if some lipstick staining remains so if in doubt about a lipstick colour perhaps err on the side of lighter first and go from there.   Yes, lipsticks can be totally removed and re-applied if necessary but this can result in your foundation around the mouth having to be re-applied or your lipline being slightly smudged.    Waterproof eyeliners often require an oil based remover to take them off which can leave a greasy residue making it harder to apply over this area, so building up a makeup look is definitely preferable.
Unedited trial photos

Communicate opening with your makeup artist at your trial.   This should be welcomed as they will want to know that you are happy with the look they have created for you.   They can only fix/change what they know about.   Your makeup artist will make notes about products used on you as well as any prep and sensitivity issues to be aware of to refer back to on the wedding day.   Often a trial is only for the bride (although makeup artists are of course happy to do trials on the entire bridal party if required) so definitely raise any issues that you think the makeup artist might need to be aware of with any of the other girls in your bridal party.   The majority of professional makeup artists will carry a full range of foundation colours in their kit however it doesn't hurt to make them aware of any very light or very dark skin tones just to be sure they can accommodate their colourings on the day.
SHOULD YOU CONSIDER FALSE LASHES FOR YOUR WEDDING DAY?
Oooh they do look good, don't they?   Gorgeous lush lashes can really finish off a bridal makeup look perfectly but are they for you?   And what's the difference between false lashes, lash extensions, magnetic lashes, eyelash tufts or flares, individual lashes, lash lift, etc?   Find out more by reading our Blog   'False lashes for your wedding day – pros and cons'.    
NOW THAT YOU HAVE AN IDEA HOW TO FILTER OUT A LOOK FOR YOU, HOW DO YOU FIND THE RIGHT MAKEUP ARTIST?  
Firstly, lets nut out a few important things before we even touch on skill, experience, style, etc.
First and foremost: Book a credible and reputable makeup artist that operates as a business as opposed to a hobbyist.   They should have their own ABN and insurance in the very least.   Planning a wedding requires booking your suppliers many months or even years in advance and you want to be sure that the person you book (and pay a deposit to) is not going to disappear overnight.   It is very easy to set up a social media account, post some nice pics and appear overnight ready to start taking bookings but generally the easier it is to get started like that, the easier it is to shut down as well.   Makeup artists who operate a legitimate business with an ABN, insurance, as well as a professional website plus all their socials have invested a lot of time and money and are definitely a safer bet.   Couple this with full disclosure on who they are, where they are located, how they can be contacted and referrals from other wedding suppliers, venues and brides who have used their services and you're on the right track.   Yes, businesses who have invested in setting up can still shut down, but generally they have a lot more at stake and take their work and bookings seriously so the service from start to finish tends to be of a higher standard.   To put it bluntly, they have a lot more at stake over a bad review!   Invest in those who have invested in offering the best service possible for you.
Your wedding day is one day of your life where you want to be able to relax knowing you are in the hands of professionals who will be there on the day and who know how a wedding day works.   Every single year we receive at least 10 last minute call-outs for makeup artists by desperate brides who have had someone pull out on them at the last minute, or who have not been able to contact their makeup artist and have been ghosted.   Sadly, this is a regular thing and on typing this blog we received a call only 4 days ago to cover a wedding yesterday for a bride whose makeup artist just pulled out for no reason.   Professional businesses don't do this.   They have a reputation to uphold and appreciate the value of great reviews and a good reputation within the wedding industry.
Professional wedding makeup artists undertand the full picture of the wedding day and know the importance of keeping to schedule and not running late.   A wedding day is a finely tuned machine with all wedding suppliers and the venue working together to ensure the day is as perfect as possible for the bride and groom.   This means that your makeup artist needs to schedule the right amount of time to ensure everyone is completed and touch-ups finished so as not to encroach on the timings of your photographer.   Yes, timelines can vary depending on the requirements of the bride and the photographer (some photographers arrive very early to capture the entire bridal preparation, others will arrive just at the end of your makeup and hair, and some may only see you at the ceremony), but it is imperitive that your makeup artist does not encroach on the timings of your photographer as they have their timeline to stick to as well.   Ideally makeup (and hair) should be completed at least 1 1/2 hours prior to the ceremony time (this will vary depending on location and any specific traditional requirements) as this allows the bride time to get dressed, time with her photographer and time to travel to the ceremony location. Be sure to allow your makeup artist the amount of time they need to adequately complete everyone in your bridal party without having to rush at the end.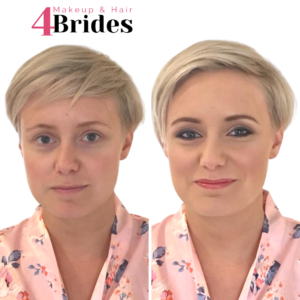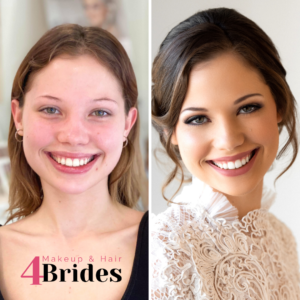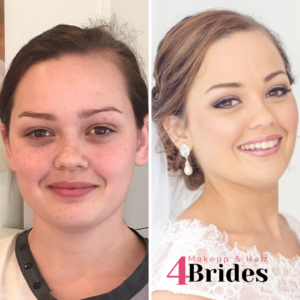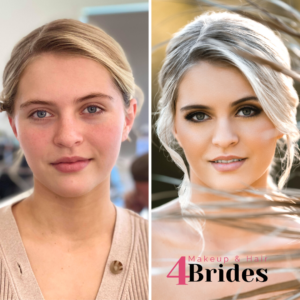 View their work:   Yes, this stands to reason but you need to look deeper.   Obviously you are going to view images of the makeup artists work to see if their style resonates with you.   Check to see if they have 'one look' for all or if they have a full makeup range and have images of a variety of different makeup looks.   Are the images of just the latest makeup fad that is all over Instagram this month (totally fine if that is what you are after) or can they also do a more timeless look   if requested? Are they images of weddings or general makeup?   Are all the images edited or have filters applied?   Of course many photos supplied to the makeup artist from photographers will have some editing, but check snapshots taken to see if the makeup artist has applied filters to their work.    Look for before and after photos which should show the skill level of the makeup artist.   Look carefully at the foundation colour matching (this is a big one).   The face should match the predominant body colour perfectly.   They should not be too different colours.   If a bride gets a spray tan for the wedding day then the makeup artist should colour match to the tan.   Most wedding dresses are either strapless or have thin straps with a large amount of skin shown on the decolletage, arms and possibly back – this is the predominant body colour and the face needs to match this.   It should not be darker than the body.   Sure, contouring, highlighting and a touch of bronzer can be added at the right places to 'warm' up the face if needed, but the base foundation colour should match the body perfectly.
Look for too much shine on the face. We went through a stage where exaggerated shiny highlighting was all the rage but thankfully this has now toned down and is used in moderation for weddings.   Too much highlighter, especially in areas like the tip of the nose, stripe down the nose, forehead and chin, can make the bride look shiny and greasy in photos often resulting in a lot of work for photographers to edit out afterwards.   And whilst on this subject, avoid glitter!   Shimmer is one thing, it's stunning on the eyelids, etc., but glitter is a whole different ball game.   Tiny specks of glitter can end up anywhere on the face adding little 'lights' in the photos which, again, photographers have to end up editing out.
Remember this blog is about 'wedding' makeup as opposed to general going out makeup. 😉

Learn about your makeup artist.   Check out their reviews; read their biographies and find out about their experiences and skills.   Do they have a specific skill that you require?   Perhaps you are looking for someone who uses cruelty free makeup, or can do eyelid taping; maybe you prefer airbrush makeup, or are an Indian bride with traditional requirements, for example.   It shouldn't be difficult to find a makeup artist offering the skills and services you require.   Are they available to answer any questions you have prior to booking?   What is their cancellation policy?   What is their deposit and payment schedule?   What are their Terms and Conditions?
Confirm that who you book is who you are going to get on the day (illness/injury excluded of course).   This might seem odd but occasionally we see makeup artists who take on bookings or who overbook only to then do a last minute call out to find fill-in makeup artists.   You have no control then on who is actually going to be doing your makeup on the day and, being a wedding, it's not like you are going to be able to have a re-do if you are not happy with the results.   Of course some may use an assistant makeup artist which is totally fine if they are working under the guidance of the makeup artist that you have booked.   And on the subject of illness and injury – find out what their backup process is.   Do they have someone of comparable skill that they can call on in the event of illness or injury and can they supply them with trial photos and notes if a trial has already been performed?   All of these points should easily be covered when you book a professional wedding makeup artist.
WE MAKE IT EASY TO FIND YOUR PERFECT BRIDAL MAKEUP ARTIST
Okay, so this was supposed to be a nice short little blog but somehow I got carried away and it just grew!   That happens when you are passionate about what you are talking about.   I've been in the wedding industry for a long time, even before the internet, and have seen a lot of changes in the wedding industry.   None more so than a brides desire and ability to be able to research everything for her wedding day from the comfort of her own home, having full access to information at her fingertips.   It is for this reason that I created the Makeup & Hair 4 Brides Marketplace – to make it easy for brides to find their perfect bridal makeup artist and hair stylist.
The Makeup & Hair 4 Brides marketplace allows you to search for available stylists for your wedding date, search for specific keywords or services; perhaps search for a maximum per person price or view a specific experience level.   The search function allows you to narrow down your search and then click on the indivdiual profiles of the stylists you like to learn all about them.   You can:
View the individual profiles of each stylist
View their galleries (including before and after gallery) of their own work
Read their biographies and learn about their experiences, training, skills, even why you should and shouldn't book them for your wedding day!   Yes, we're into full transparency!
By clicking on the 'booking' tab on their profile you can check availability and obtain a quote instantly for the exact services you require.
You can make a trial or wedding day booking directly via the stylists profile
Payments are automated and scheduled leading up to your wedding day
Message your stylist directly via their profile to ask questions or share images
Set up your own brides profile and store all your wedding suppliers in the one location
Load up inspiration images into your own gallery and then share them with your booked stylists
All bookings made on the Makeup & Hair 4 Brides Marketplace are covered by our Public and Products Liability Insurance.   More and more venues are requiring that all suppliers accessing their property provide proof of insurance coverage, so we have you covered there.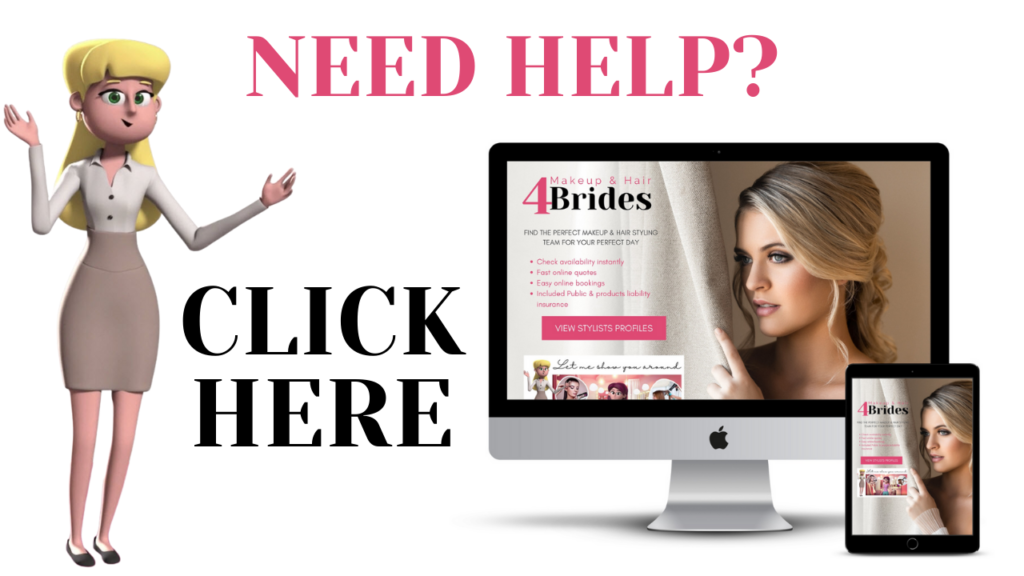 Written by Lisa Thomas
Makeup Artist & Founder of Makeup & Hair 4 Brides.