10 Best Wedding Upstyles
One of the biggest decisions a bride will make is how to wear her hair for her wedding. It seems like a simple decision, but in reality, it can be quite difficult. After all, these are the pictures that will be treasured for a lifetime.
A wedding hairstyle has to meet several standards. First, it has to match a bride's personality. Second, it needs to be appropriate for the level of formality assigned to the wedding. Third, it needs to match the style of the wedding dress.
We love upstyles for weddings. Some may find them a bit overwhelming because these styles aren't worn every day, but a good hairstylist can create a masterpiece for the big day. A beautiful upstyle can make a bride feel like a princess and every bride owes it to herself to treat herself to that feeling that only a gorgeous hairstyle can provide.
Here are 10 of the best wedding upstyles.
The Chignon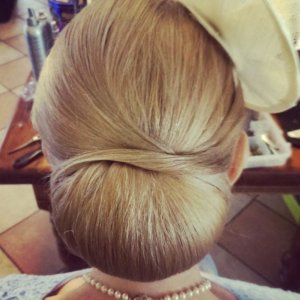 The chignon is one of the most classic upstyles there is. It is a distinctive bun either pinned low at the nape of the neck or in the middle of the back of the head. There are many variations of it, which is one of the reasons for its popularity.
Typically, a chignon involves some twists and possibly braids to give it a more romantic look that goes beyond an ordinary bun. It looks great on anyone, can be done with a variety of hair lengths and works with both a formal gown or a semi-formal dress that is shorter.

Braids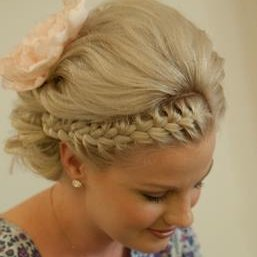 Braids can be used in a variety of upstyles to give hair an unusual appeal. There are French, Dutch and Fish braids that can be utilised with a low bun, a chignon or to create an accent or decorative effect around the head. This hairstyle can be enhanced by adding elements like gold threading, flowers or crystals to complete the look.
Braids work well with any length of hair. They also work with dresses that both show shoulders and neck or cover them up.
Art Deco Upstyle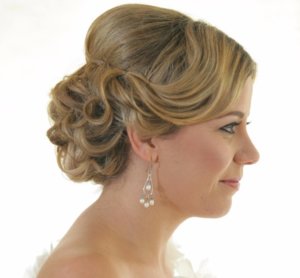 This style is all the rage in Hollywood at the moment because of its vintage appeal and its unique look. This is perfect for those who want a bold, classic look that resembles the 1920s without being too obvious. This is one style that works with shorter hair as well.
French Twist Chignon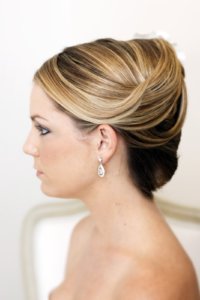 This is a look that denotes utmost sophistication. It is a classic style that looks great on everyone and its simplicity draws everyone to a bride's total look. In this style, the French twist runs from the nape of the neck to just below the crown and that adds a dramatic effect. It works best with medium to long hair and looks wonderful with a sleeker dress silhouette.
Milkmaid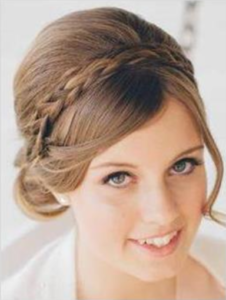 While this upstyle was once associated with hardworking farmer's daughters, the new modern version mixes romance with a bohemian influence. The milkmaid style always includes a braid or two. Some versions have two French braids from the forehead going back into the bun while other versions include a Dutch braid going across the top of the front of the head, framing the face. Tight or loose, the style works for brides seeking something both fun and sweet.
This style works well for those with shorter hair and goes well with fuller dresses.
Messy Upstyle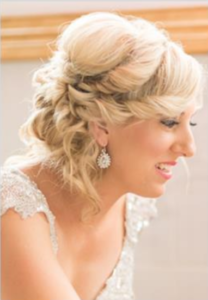 This style comes in a variety of ways, but it is a great balance between the formality of a wedding upstyle and a casual flair of wearing hair down. A wispy fringe, tendrils and loose curls on the back of your head can all be used in a messy upstyle. It is one of the most popular styles because it suits almost everyone, no matter the height, amount of curves or the dress style.
Ballerina Bun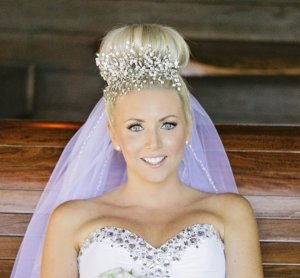 This is one of the most classic wedding upstyles ever. It is also the most simple to do and causes guests to totally focus on the bride's face and dress. It is a tight bun pulled up high on top of the head with hair around the face pulled into the bun, creating a slick, high-end hairstyle.
A ballerina bun works really well with a veil. It also works best with a modern, sleek dress.

Messy Bun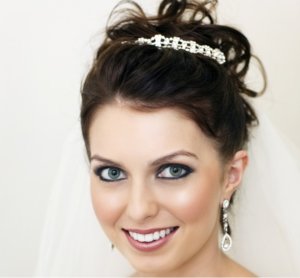 This style focuses on the bun but has less structure.  The front remains more intact with hair pulled back, so the interest is in the back of the head. It can be worn as either a low bun or a higher version and can include waves, curls, or loose hair. It can be styled smaller and simpler or as a large bun, and works with classic dress styles.
Sculpted Twists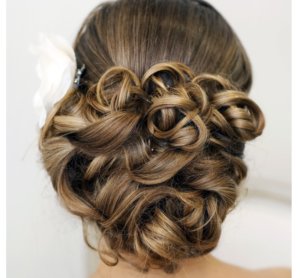 Whether you do this as a chignon or as a bun on top of your head, draped twists or pinned curls turn a bride's head into an art piece everyone will admire. Twists can be done as dramatically as you like and have a huge impact.
This style works with dresses that don't have a lot of ruffles and that has simple, classic lines.
Side Wedding Upstyle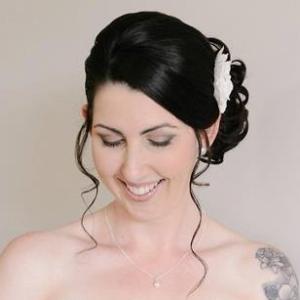 This has a loose, wavy low bun set asymmetrically rather than in the center of the back of the head. It is typically large with huge romantic waves or curls that add to the drama. It is perfect for brides who don't want a highly formal upstyle, but also want something more formal. This style shows off shoulders, but covers the nape of the neck.
This style requires a lot of thick, long hair and looks awesome with a fuller, strapless dress.
Whether you go for high drama or a fun style, exploring wedding upstyles will be something worthwhile. Talk with a Hair 4 Brides stylist today to find your match and help you achieve that great hair that will bring out confidence for the big day.